The instructor is certified by Dr. Betty Edwards in the renowned curriculum "Drawing on the Right Side of the Brain"

---
This accredited course may be offered in the summer of 2016. To register and check on availability, please visit the college website.

This course offers a dynamic studio environment - engaging students from a variety of scholarly interests, and serves as a required humanities elective.

---
J.G. Chapman's The American Drawing Book , published in 1847, was widely used in American Public Schools.

---

"Just as we teach our children their ABC's so that they can read and write; and as we teach them their numbers so that they can compute and calculate; so too, must we teach them the non-verbal, non numerical skills of visual perception.

Without that, we are robbing our children of the use of important brain functions. With perceptual skills training, students are far better able to concentrate, to learn, to grasp abstract concepts and ideas, and to see and appreciate the world around them.

Learning to draw is an efficient means for tapping into latent observational skills."

-Brian Boemisler, Instructor in DRSB

Within school districts that are challenged to bring arts education to students, drawing is a cost-effective arts curriculum that offers so much benefit to students with the simplest materials, and is part of our tradition in education.

---
ABOUT PROJECTARTS
Douglas Ritter has been a year-round resident of the Outer Cape since 1997. He first came to Cape Cod in 1987 with a fellowship in painting from the Fine Arts Work Center in Provincetown. He has taught painting, design, drawing and color theory within the BFA Programs of the Corcoran School of Art, Rhode Island School of Design, and the Savannah College of Art and Design, and at the Museum School of the Provincetown Art Association and Museum, as well as workshops within arts organizations such as Castle Hill Center for the Arts in Truro, Massachusetts, and Rockville Arts Place in Maryland. He is currently teaching accredired courses in drawing and design at the Cape Cod Community College. Some of the work from these courses are presented below.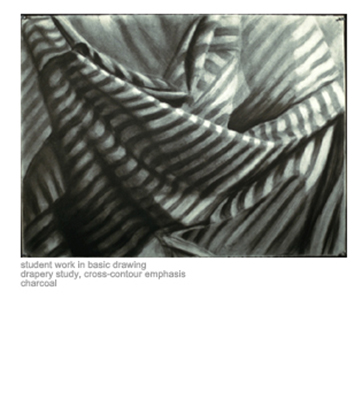 He holds degrees in painting from the University of Maryland (MFA 1987) where he studied with Ann Truitt and Nicholas Krushnick, and the Philadelphia College of Art (BFA 1983), as well as studies at Temple University in Rome, Italy. Awards and grants include a 1998 Maryland State Arts Council grant in 2-dimensional media, 1990 National Endowment for the Arts Fellowship in Painting, 1989-90 SECCA/R.J. Reynolds Fellowship from the Southeastern Center for Contemporary Art, and a 1987-88 residency/fellowship from the Fine Arts Work Center in Provincetown, and has been active on FAWC's Visual Program Committee since 1997.

Solo Exhibitions include School 33 Art Center, Baltimore, Maryland, Hudson D. Walker Gallery, Provincetown, Massachusetts, Elon College, Burlington, North Carolina, Schoolhouse Gallery, Provincetown, Julie Heller Gallery in Provincetown, MA. His work is in the permanent Collection of the DeCordova Museum in Lincoln, Massachusetts, the Cahoon Museum of American Art in Cotuit, Massachusetts, and numerous private collections.

These images are representative of work done over the last six years, and are distinct and differentiated from the large-scale canvasses on the painting page. They serve as a journal of sorts - and in their composition, they are made in an animation that is akin to writing.
All similar in scale- the paintings are generally 12 to 14 inches in their smallest dimension, painted on wood panel. They are an involvement with composition and formality, and reference aspects of representation, abstraction, and symbolization.
There is an association with an actual place or event that serves as an armature for the activity of painting, and a stretching of meaning from something quite specific to a generic or more universal representation. Working reductively within a given composition, and abandoning space as an ordering principle to a more automatic, calligraphic and surface oriented structure, the paintings develop a complex syntax of simplified form.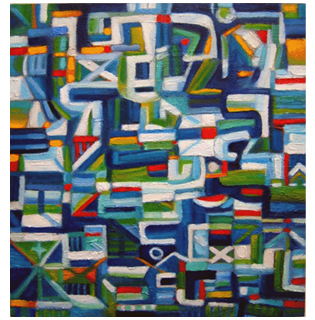 Playing the tensions between surface and space, color and shape, Painter Doug Ritter creates a kind of code, an elemental, symbolic visual language, to describe his experience of place. There is clearly a narrative instinct in the work, but mostly, through the structure of the painting, he is "making a path between things." Ritter puzzles flags of primary color, roof lines, cottage gardens, fishing boats, like a mariner's semaphore, embedding his post verbal story in a mosaic of reductive form that echoes the spirit of early modernists.
This work is more about creating structures that bring together the immediate sensual experience and the memory of place or event, embracing "the active space between experience and memory." In these mostly small paintings Ritter, gathers shards of bright color, creating abstraction out of real experience and the memory of real place.

- Eileen Kennedy

resume pdf